Who the hell is Brad?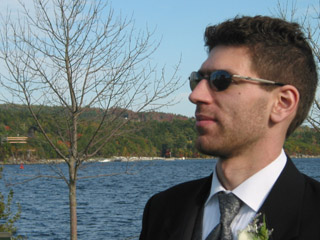 I grew up in Fall River and Bedford, Nova Scotia, and I now live in Halifax. I've been to Ottawa for a total of 12 months, and don't plan to go back. I spend my time either with Joanne, staying a bit too late at work, staying a bit too long in bed, or doing that living thing. Or all at once, if possible.
I currently work as a Systems Architect at Infointeractive, where I've been happily having fun and getting paid since May 1998. This means that I helped to create Internet Call Manager and AOL Call Alert, among other things. An old friend also works there with me (well, remotely, nowadays, but he still works with me).
Back in the old days we were a ticker symbol on the Alberta, Montreal, Toronto and eventually Nasdaq exchanges. Then, in July 2001, a big company came along and bought us, and I do cool things for them.
A while ago (scary), I went to Dalhousie University, in Halifax, Nova Scotia (Canada even), where they decided to give me an Honours Co-op Degree in Computer Science. You can reach me via spencer@jacknife.org, perhaps even by using my GPG public key.



Last updated October 8, 2002
First updated Fall 1994